Top Five Organization Tips to Kick Off the New Year via…www.avery.com
Yeah, yeah, you've heard it all before: "the new year is the perfect time to get organized." Enough of the talk—let's do the walk! There's a lot we pack into each and every year, and one way to take charge of our busy lives is by starting the year off right. Whether you're looking for a quick fix to tackling your tasks, or need to do a complete organization overhaul, here are five tips to help you achieve a more organized year.
1. Do a quick sort of your paper stacks.
Hey, who gave paperwork the right to take over your desktop? Here's a quick way to do some damage control on those surface squatters. Sort your paperwork using binder clips customized by task labels, such as "file," "need signature," "mail," or whatever action you decide. Once you've got your papers organized by task, you'll know exactly what you need to do next without having to second guess.

2. Keep key info handy for referencing.
All information is not created equal; some are just more important than others. Whether you're planning the household budget for the new year, building a binder for your tax paperwork, or even putting together a health record for your family and/or pets, keep all your key information together. One solution is the Avery Heavy-Duty Binder—it's portable and easy to access, designed for frequent and long-lasting use, and built to resist wear and tear.
| | | |
| --- | --- | --- |
| | | – For easy referencing, organize your information with dividers. You can create customized divider tabs right from your desktop with Avery Index Maker® Dividers and the free Avery Design & Print Online program. With simple, step-by-step instructions to guide you, you'll be able to create customized divider tabs that look professionally printed in minutes!- Your binders will be just as organized on the outside as they are on the inside with binder spine labels. Create your labels with Avery Removable Organization Labels to organize your tax binders by year, recipe binders by cuisine, and health records by name. |
3. Move paperwork off your desk.

Consider your desktop as prime real estate. That's valuable space you've got there! For paperwork you need to keep but don't reference often, it's time to relocate them off your desk. You might move them into an accordion file, an organizing tote, or a filing cabinet. And when you do, be sure to nestle them in file folders labeled with Avery File Folder Labels. Why use these labels? They feature TrueBlock® Technology, which completely cover up what's underneath, like existing marks or old labels. Not only will you be able to reuse file folders again and again, they'll also be easy to read, with no distracting marks showing through.
For use with Avery File Folder Labels (8066): Get Organized with File Folder Labels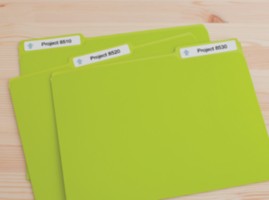 4. Pack it up and put it away.
There are some things we must keep, such as tax forms, bank statements, and home records. And there are some things we feel the need to keep, like baby blankets, personal letters, and that funky-looking family heirloom. Or it could be just separation anxiety. Whatever it is, we don't want it cluttering up our living space. And that's why the storage industry has been around for hundreds of years. If it's not your everyday stuff, it might be better off in storage boxes, but it doesn't have to remain there incognito. With Avery Removable Full-Sheet Organization Labels, you can dutifully archive your belongings and identify the contents at any time. They come in handy as reminders, too—for dated documents, add a "destroy by" date so there's no questioning it later, and for breakables, include a bold "fragile" warning so your boxes will be handled with care.
5. Stay organized all year round.
Once you start noticing the benefits of your organization efforts, make sure you keep at it all year. Disorganization usually doesn't happen overnight. To help you tackle your tasks, use Avery Sticky Notes and NoteTabs®for quick notes and reminders. They're available in popular sticky note styles with new features to help you get organized—and stay organized.
Ready to get this year off to a fresh start? Let's get crackin'! Whether you choose to do one tip or work through all of them, just stick with it and you'll find your efforts will make a difference in your overall organization.